Building Work, Replacements & Repairs in Sheffield
Firstly, Building Work, Replacements & Repairs in Sheffield need to be approved by your Local Authority. However, this is no needed if carried out by a registered installer. For example, this page includes all the information needed to make an informed decision.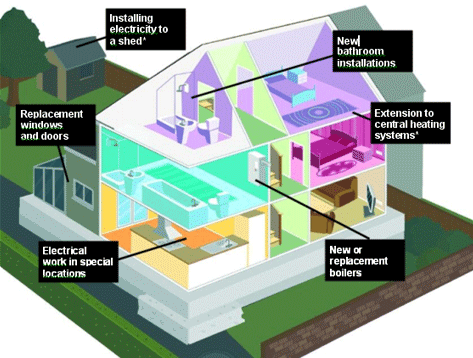 What will happen if I do not comply with the Building Regulations?
If you do not comply the work will not be legal.
You could be prosecuted and could face a fine of up to £5000.
The work may not be safe or could cause health problems.
It may also not meet energy efficiency standards.
If work is found to be faulty your Local Authority could insist you put it right at your own expense.
If the work has not been notified or carried out by a registered installer you will have no record that the work complies with Building Regulations.
A registered tradesman will notify the Local Authority on your behalf and will issue you with a certificate on completion.
You will have to submit a building notice or full plans application and pay a fee to have the work inspected.
Finding a registered installer
Firstly, visit www.competentperson.co.uk and enter your postcode or the name of the installer. Alternatively, contact the Competent Person Scheme operators directly.
How to meet the requirements of the Building Regulations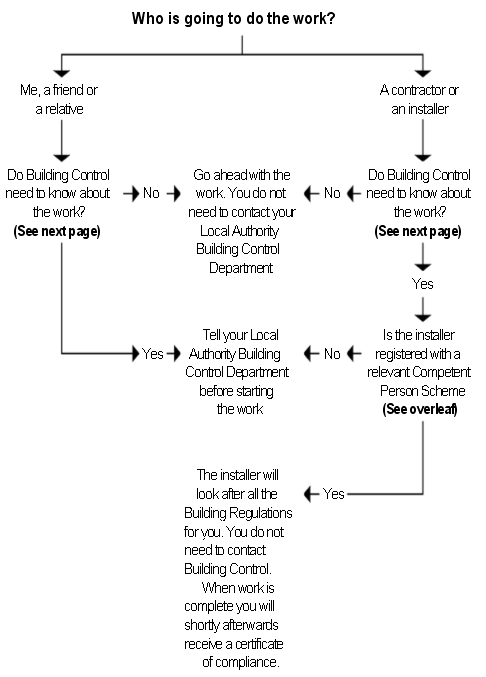 Secondly, find examples below of what needs to be reported to the local authority;
New heating system or any boiler.
New oil tank.
Existing electrics or plumbing are changed.
New air conditioning systems.
Adding radiators to an existing heating system.
New electrical installations in bathrooms, kitchens and outdoors.
Replacement window and door units.
Thirdly, you DO NOT need to tell your Local Authority Building Control about;
Most repairs, replacements and maintenance work.
Additional power points or lighting points or any other alterations to existing circuits.
Replacements of baths, toilets, basins or sinks
Additionally, we have provided names of schemes. However, this does not reflect whether the scheme specializes in dealing with a particular type of work. Also, some schemes may not have members in your area who deal with the work required.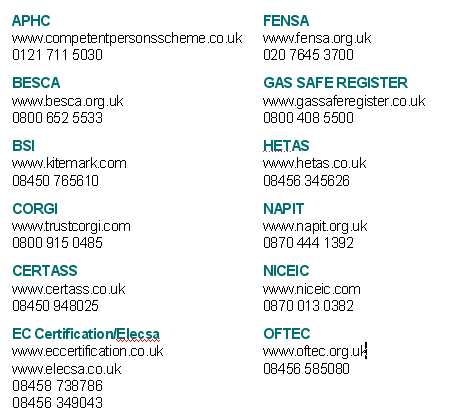 Finally, some registered installers are also members of the TrustMark scheme. This also gives further consumer protection. For details, visit www.trustmark.org.uk